Children and Youth
Sunday School: September to May. Sunday School begins at 10:00 am and the children are dismissed into church during the Peace so they can participate in the Eucharist. Our curriculum is Seasons of the Spirit, which supports faith communities and families in their life together by:

exploring meaning and mystery in the Bible
being grounded in thoughtful theology
empowering children, youth, and adults to be transformed in Christ
inspiring and equipping leaders
nurturing the imaginative spirit
offering resources for all ages
integrating worship, learning, and serving ministries.
Arts Camp: July 2023

Monday, July 24 through Thursday, July 27 from 5:30 pm to 8:00 pm. This year's theme is All Creatures Great and Small. Watch for more information!
Boy Scouts
St. Gregory's sponsors Troops 1053B and 1053G. Members of the troop help out around the church and participate in Scout Sunday in March.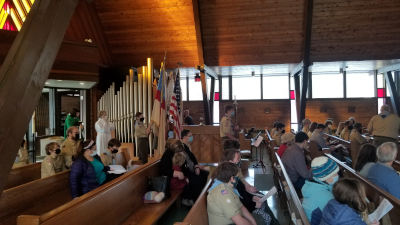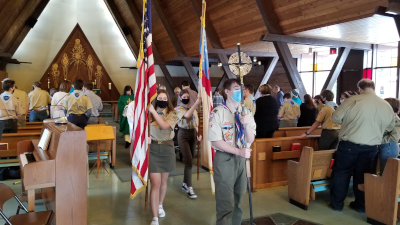 Episcopal Youth Camp
FOR CHILDREN & YOUTH

April 25, 27 and May 2, 4 (4-6pm) - Farm Club (Session 1)
Plainsong Farm in Rockford, MI
For 3-5th Graders
$72 (or $142 for Sessions 1 & 2) - Learn more and Register

May 16, 18, 23, 25 (4-6pm) - Farm Club (Session 2)
Plainsong Farm in Rockford, MI
For 3-5th Graders
$72 (or $142 for Sessions 1 & 2) - Learn more and Register

June 19-22 (9-Noon) - Summer Farm Day Camp: Little Gardeners
Plainsong Farm in Rockford, MI
For 1-2nd Graders
$120 - Learn more and register

June 26-29 (9-3pm) - Summer Farm Day Camp: Earthkeepers
Plainsong Farm in Rockford, MI
For 3-4th Graders
$240 - Learn more and register

July 1-2 (12:30-3:30pm) - Regional Day Camp in Grand Rapids
Hosted by Sudanese Grace, Grand Rapids, with Camp Chickagami
For rising 1-6th graders
Tiered pricing starting at $10 - Learn more and register

July 5-6 (10-2pm) - Regional Day Camp in Traverse City
Hosted by Grace, Traverse City, with Camp Chickagami
For rising 1-6th graders
Tiered pricing starting at $10 - Learn more and register

July 9-14 - Junior Camp
Camp Chickagami in Presque Isle, MI
For rising 3-5th graders
Tiered pricing starting at $400 - Learn more and register

July 9-14 - Counselors-in-Training Camp
Camp Chickagami in Presque Isle, MI
For rising 10-12th graders
Tiered pricing starting at $250 - Learn more and register

July 10-13 (9-3pm) - Summer Farm Day Camp: Jr. Master Gardeners
Plainsong Farm in Rockford, MI
For 5-6th Graders
$240 - Learn more and register

July 16-21 - Intermediate Camp
Camp Chickagami in Presque Isle, MI
For rising 4-7th graders
Tiered pricing starting at $400 - Learn more and register

July 16-21 - Pioneer Trip Camp
Camp Chickagami in Presque Isle, MI
For rising 9-12th graders
Tiered pricing starting at $400 - Learn more and register

July 17-20 (9:30-4pm) - Local Day Camp
Camp Chickagami in Presque Isle, MI
For rising 1-5th graders
Tiered pricing starting at $100 - Learn more and register

July 17-20 (9-3pm) - Summer Farm Day Camp: Earthkeepers
Plainsong Farm in Rockford, MI
For 3-4th Graders
$240 - Learn more and register

July 22 - Traveling Trip Camp
Leaving from Camp Chickagami in Presque Isle, MI; Team building, ropes course, and canoe trip on lower peninsula river
For rising 9-12 graders
Tiered pricing starting at $700 - Learn more and register

July 23-24 (Noon-4pm) - Regional Day Camp in Saginaw
Hosted by St. John's, Saginaw, with Camp Chickagami
For rising 1-6th graders
Tiered pricing starting at $10 - Learn more and register

July 25-26 (10-2pm) - Regional Day Camp in Midland
Hosted by St. John's, Midland, with Camp Chickagami
For rising 1-6th graders
Tiered pricing starting at $10 - Learn more and register

July 27-28 (10-2pm) - Regional Day Camp in Kalamazoo
Hosted by St. Luke's, Kalamazoo, with Camp Chickagami
For rising 1-6th graders
Tiered pricing starting at $10 - Learn more and register

July 30-August 4 - Middle Camp
Camp Chickagami in Presque Isle, MI
For rising 6-8th graders
Tiered pricing starting at $400 - Learn more and register

July 30-August 5 - Episcopal Youth Camp
Stony Lake Lutheran Camp in New Era, MI with EYC
For rising 3-12th Graders
$450 (Discount of $50 per additional sibling) - Learn more and register

July 31-August 4 (9:30-4pm) - Local Day Camp
Camp Chickagami in Presque Isle, MI
For rising 1-5th graders
Tiered pricing starting at $100 - Learn more and register

August 7-10 (9-3pm) - Summer Farm Day Camp: Jr. Master Gardeners
Plainsong Farm in Rockford, MI
For 5-6th Graders
$240 - Learn more and register