Children and Youth
Sunday School: September to May. Sunday School begins at 10:00 am and the children are dismissed into church during the Peace so they can participate in the Eucharist. Our curriculum is Seasons of the Spirit, which supports faith communities and families in their life together by:

exploring meaning and mystery in the Bible
being grounded in thoughtful theology
empowering children, youth, and adults to be transformed in Christ
inspiring and equipping leaders
nurturing the imaginative spirit
offering resources for all ages
integrating worship, learning, and serving ministries.
Arts Camp: July 2022

Monday, July 25 through Thursday, July 28 from 5:30 pm to 8:00 pm. This year's theme is Interfaith Peace-The Golden Rule. Watch for more information!
Boy Scouts
St. Gregory's sponsors Troops 1053B and 1053G. Members of the troop help out around the church and participate in Scout Sunday in February.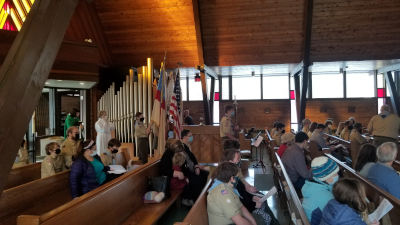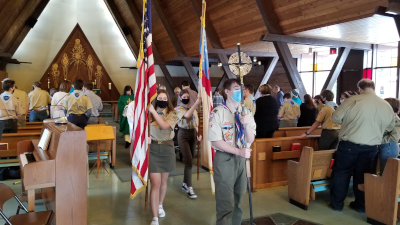 Episcopal Youth Camp

Episcopal Youth Camp in the Diocese of Western Michigan is a place where all ages come together to form a Christian Community. Every child is welcome, from 3rd thru 12th grade.
http://www.episcopalyouthcamp.org
Additional Information and registration can be found online at edwm.org.
2022: We will gather the week of August 7th through 13th at Camp Newaygo. All youth, grades 3-12, are invited to join us for a great camp experience. Visit our website, www.episcopalyouthcamp.org to learn more about our sessions, pricing, and more.